Activate Your Platinum Membership Now
Before the Next Price Bump:
Just $197.00
Your low-cost investment is protected
by a 14-day money back guarantee
Hey, it's Ben Murray with Brad Stephens and the ClickAgency team and I just want to say congratulations and welcome aboard!
You just got access to powerful technology that's going to help build an agency you can be proud to own in no time at all.
We Want to Make
Your Life Easier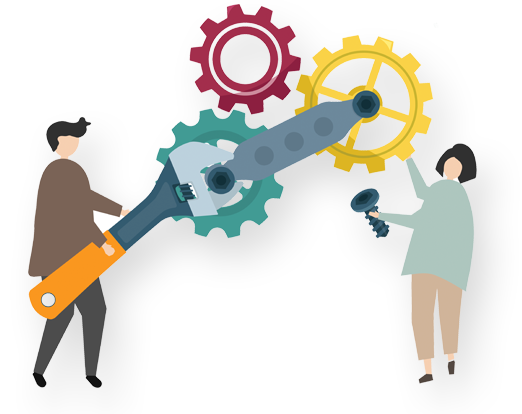 Before you get started, because you're a smart marketer who took action, we want to give you the chance to upgrade your account.
We tried to pack as many features and value into ClickAgency on the front end as possible...
but, we did have to leave out some licenses and amazing features to make the software affordable and accessible to everyone.
This does include advanced features many serious ClickAgency "power-users" will want to get the most out of their purchase and maximize results.
So, if you're one of those users interested in using ClickAgency to its full potential to save far more time…
Allow Us to Introduce...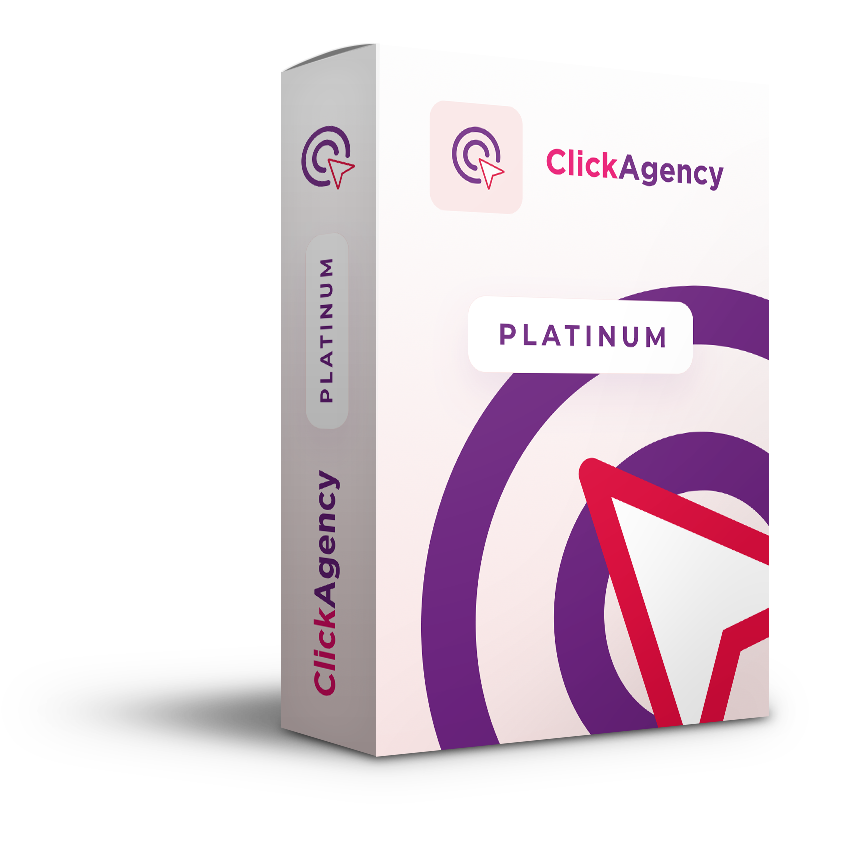 You're getting more usage rights and amazing features for a low one-time fee including: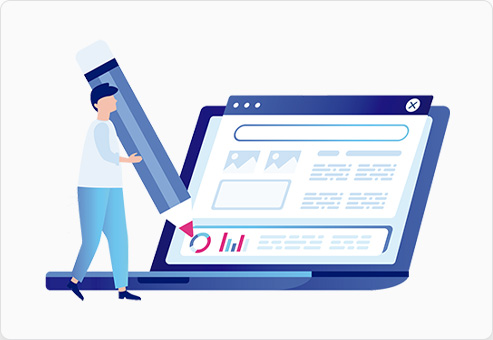 Create 1000 Pages Per Month and Run 1000 Campaigns at Once
Due to bandwidth restrictions there was a cap on the amount of pages and campaigns you could create on the frontend version.
However, with the upgraded edition you can make far more pages and campaigns like a serious agency.
Connect 1000 Facebook Accounts and 1000 Adwords Accounts
Just like campaigns, there was a cap on the number of FB accounts and Adwords accounts you could connect. But, now you can connect far more. Clients will probably have multiple pages and accounts so this is an important upgrade.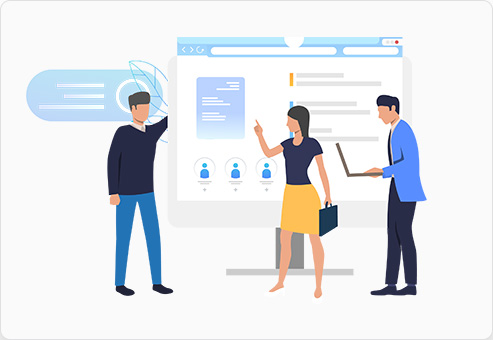 30 Additional DFY Templates in Hottest Local Niches
You'll get 30 more DFY video lead page templates. These are in our best and hottest niches that are the most profitable and untapped.
Create Amazing Instagram Ads Automatically
This is amazing! Now you can create Instagram ads automagically in addition to Facebook and Google Adwords ads. Instagram ads are the most profitable and clients will be even more excited to work with you.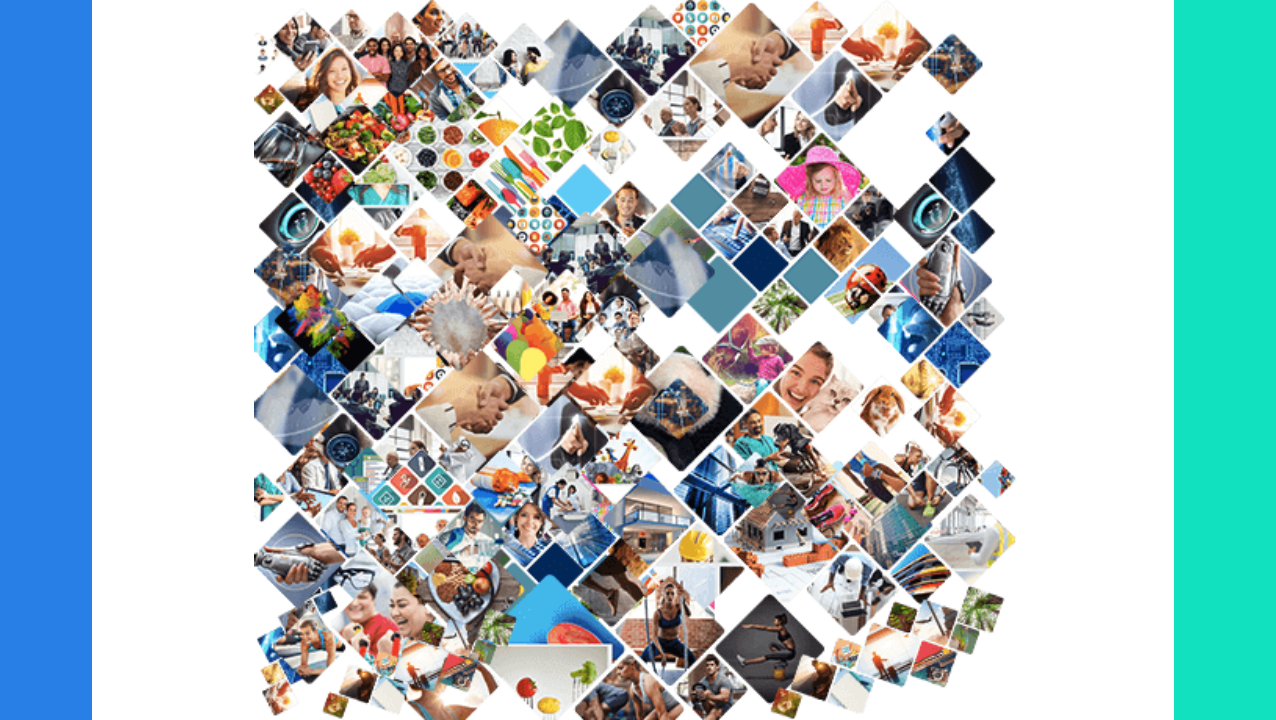 1,000,000 Images Integration
Get tons of more images to use in your web page designs with this massive upgrade.
Traffic Pixels and Header Code Integration
Now you can integrate any Facebook retargeting, Adwords retargeting, or any other scripts or code into your ClickAgency lead pages with this essential upgrade.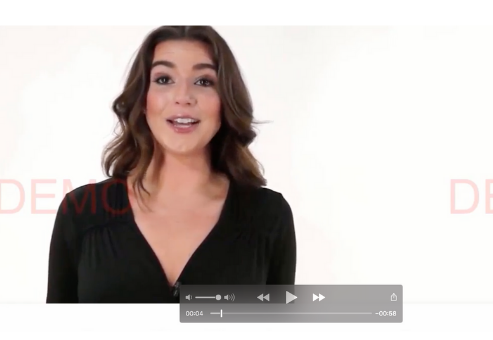 ClickAgency Spokespeople Integration
Don't have any spokespeople videos to use for your lead pages? Get these professional spokespeople in 90+ different niches to add into your pages and charge far more with.
As a Special Add-on Today You're Also Getting The…
ClickAgency MockChat Traffic Generator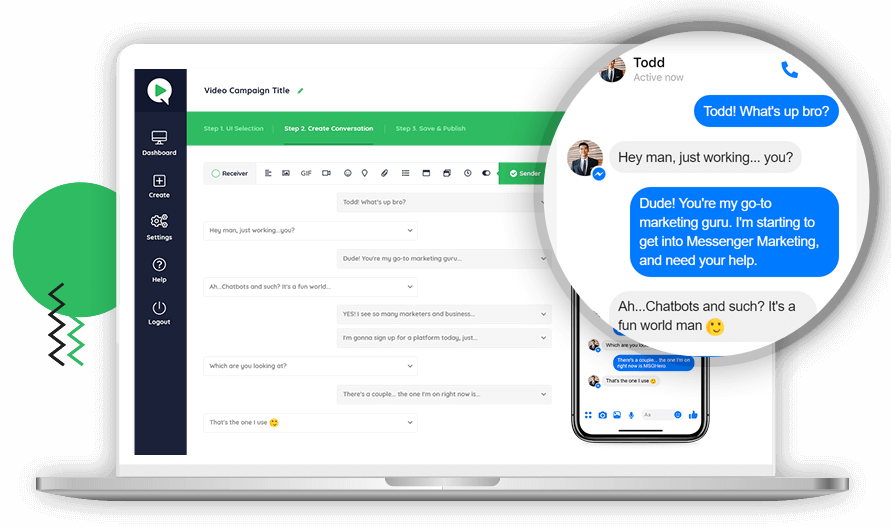 With ClickAgency MockChat Traffic Generator you can create traffic generating "chat" videos that drive leads and sales.
These are a simulated back and forth conversation that answers all of your prospects burning questions, overcome objections, and satisfy desires to improve marketing. Now you can reduce support and increase sales all in one video.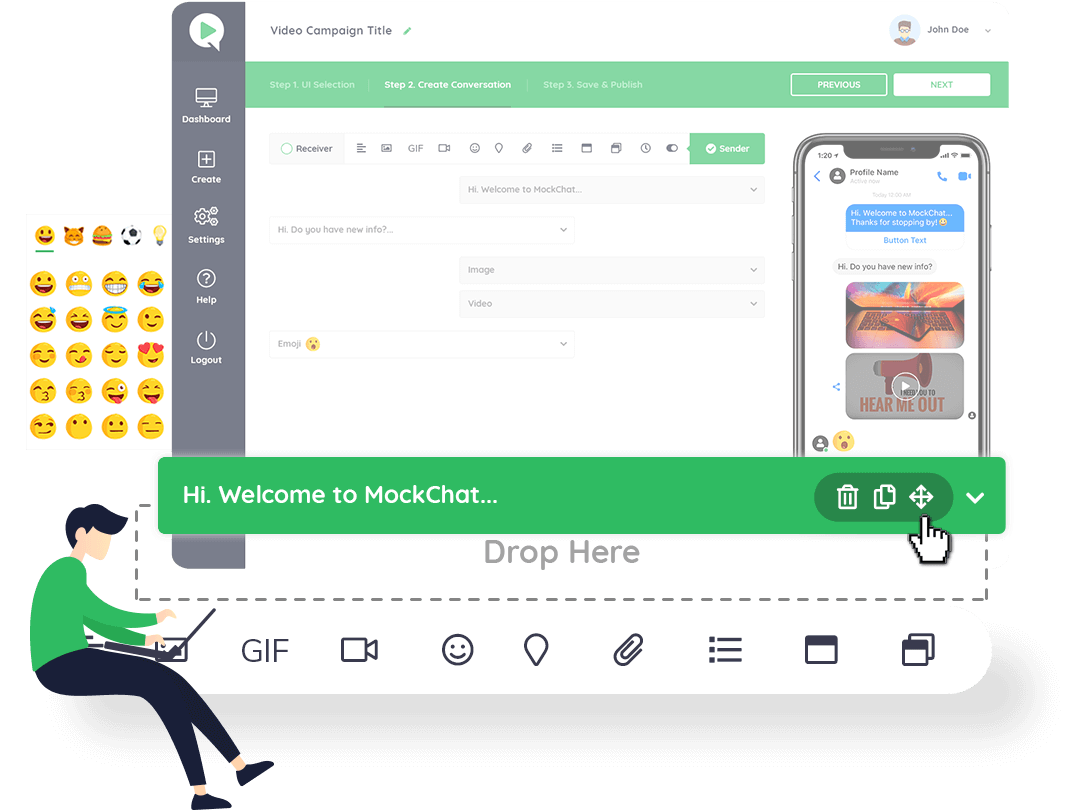 Create your own mock conversation video in 2 minutes
Our simple drag & drop conversation builder makes it easy and fun to create a conversation on any leading conversation platform. No coding required!
Get traffic to your website
MockChat makes it easy to quickly grow traffic by posting your conversation mockup videos directly to YouTube, Facebook or Instagram with one-click.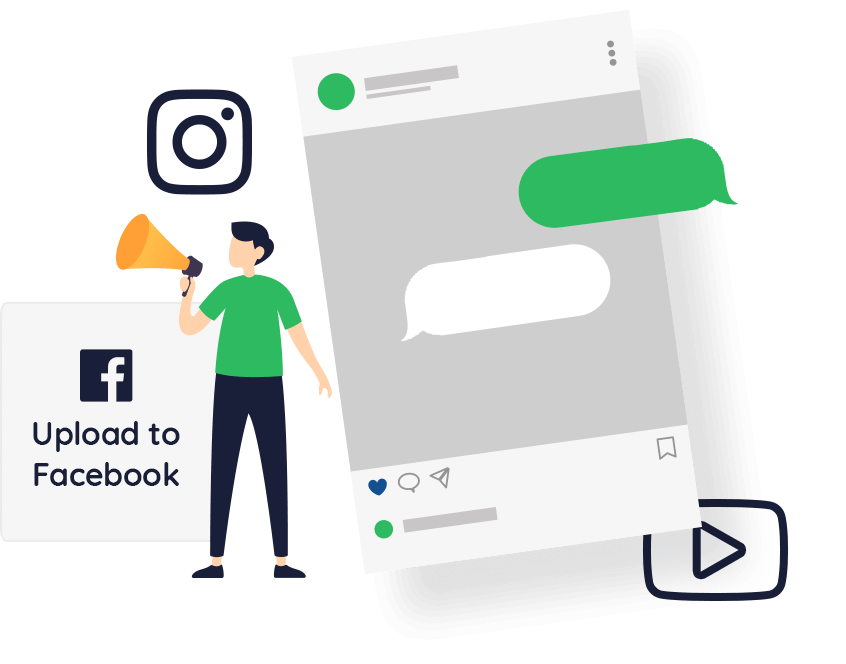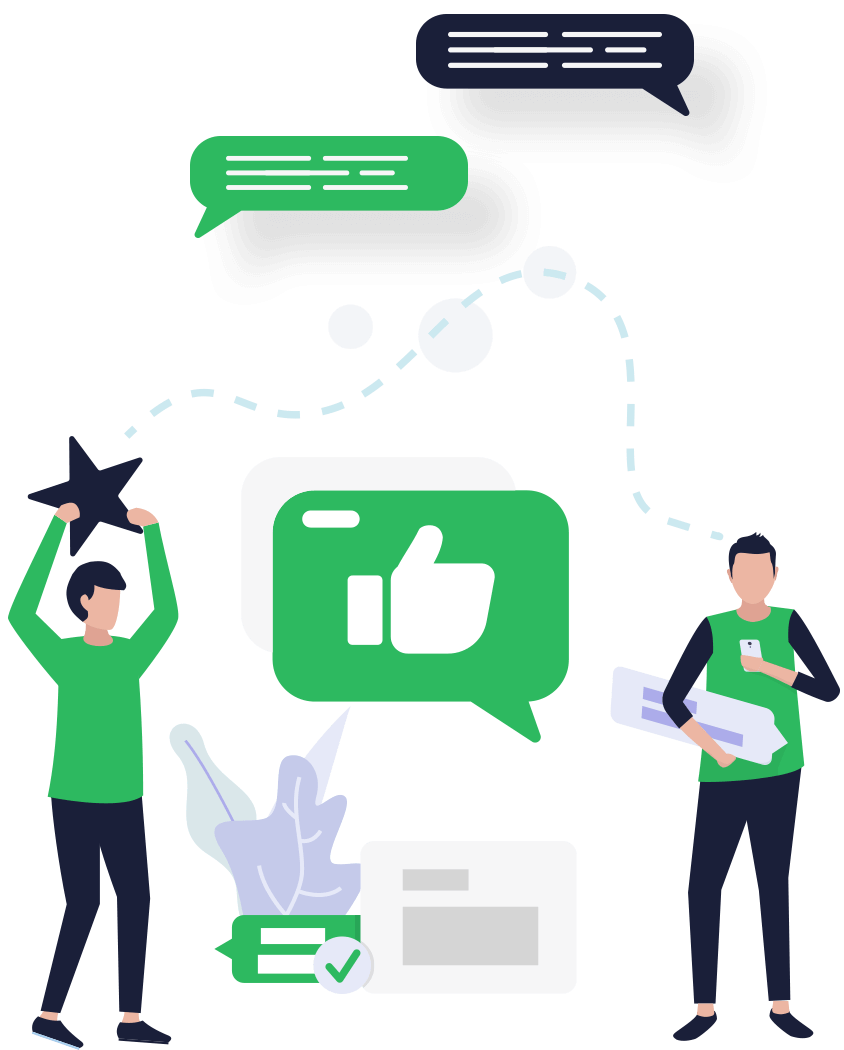 The #1 way to effectively communicate your product or service
Conversations and stories are the best way to sell a product or service.
They're easy to follow along with, and they engage the prospect in ways traditional media cannot.
Using mockchat, you can easily create a story between your brand and a prospect using a mockup conversation and export it as a video.
Answer questions, overcome pain points, boast features, communicate benefits, tell a story. You name it.
Watch How Easy it Is to Use
Make MockChat Conversations Like This for YouTube, Facebook, and Instagram…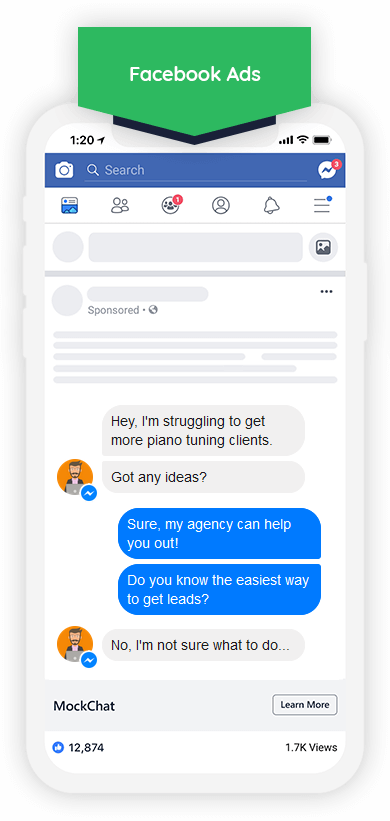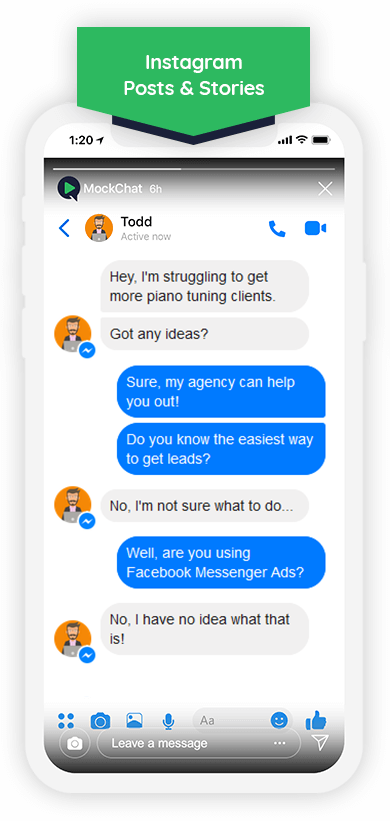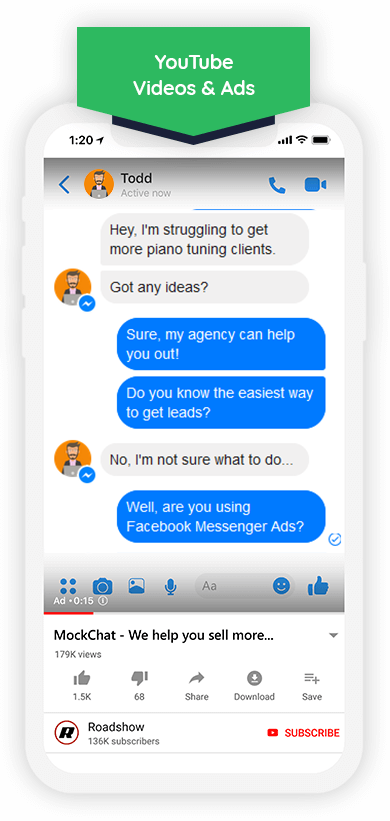 Plus, for the next several customers we're offering...
High-Value ClickAgency

Platinum Bonuses
Bonus #1. Agency Rights to Black and White Facebook Ads Templates
$197 Value
Did you know black and white FB ads are proven to convert much better that color ones? That's because they stand out in the news feed. Now, you'll get a suite of premium DFY, editable black/white ads for your FB Marketing Agency.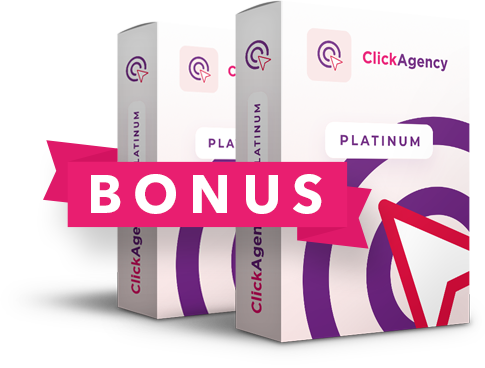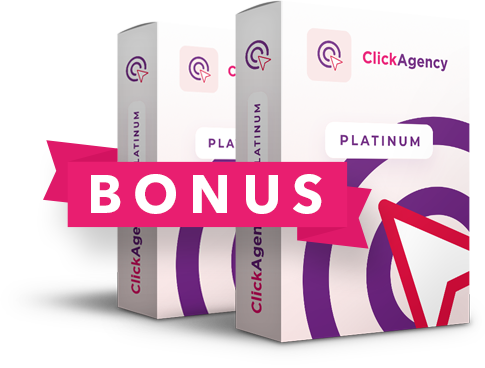 Bonus #2. Reseller Rights "Print Ready" Editable Facebook Agency Report"
$397 Value
If you want to land Agency clients for your FB ads or marketing services, you need a sick looking proposal template. Now you can use and edit this "print ready" template to make your business look like a big-time agency.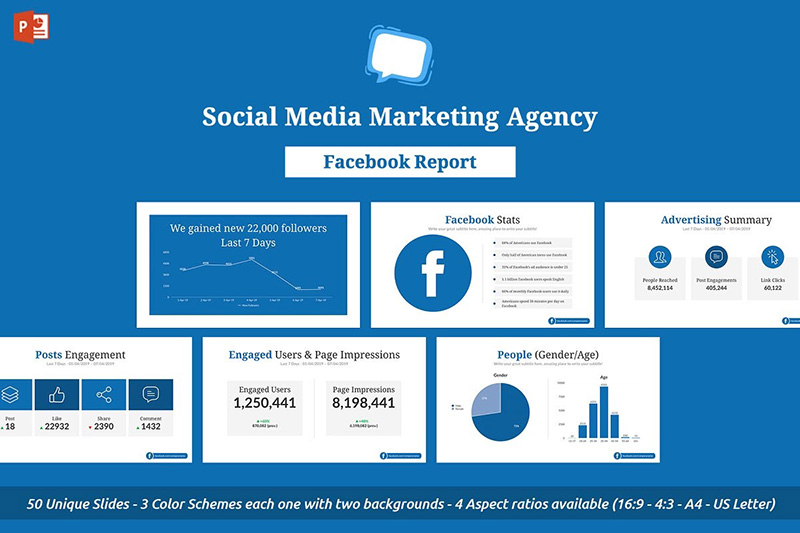 Bonus #3. Agency Rights to VidCurator Elite
$197 Value
Video Curator Elite is a one of it's kind video autoblogging and content curation plugin. This software allows you to create high-quality WordPress blog posts automatically FROM VIDEOS and more. You just have to set the keywords or targeted feed urls and it will automatically post contents from various sources until it meets the target that you set. Works in your sleep!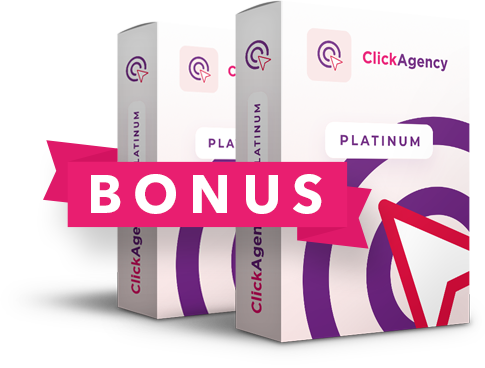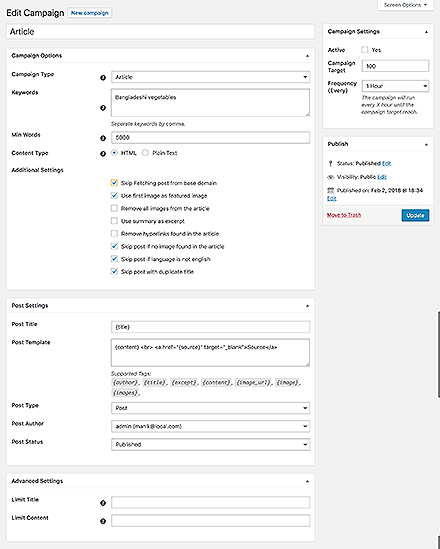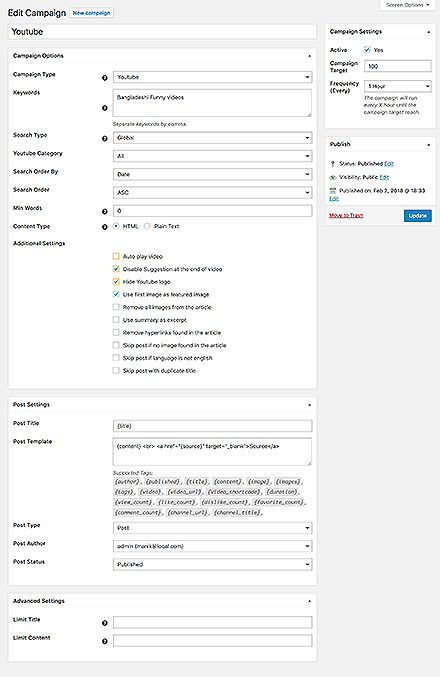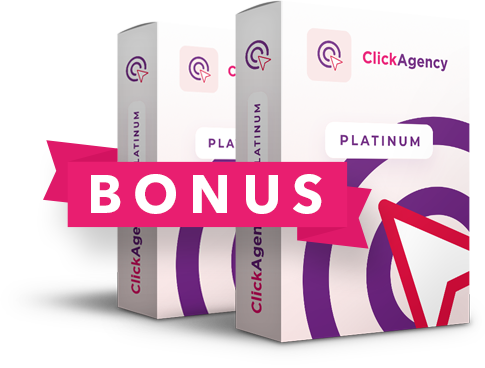 Bonus #4. Ticket Support Software
$97 Value
This plugin adds to WordPress the features of a complete ticket system with 100% responsive and 100% Ajax functionality. This allows users to submit tickets to report problems or get support on whatever you want. Users can set the status, priority and category of each ticket.
Features:
Unlimited ticket submission through the admin
Unlimited ticket submission through the frontend
Unlimited ticket submission on behalf of users
Guest ticket submission (if enabled) with inbuilt anti-spam protection
Priority, Status, Category selection for each ticket (Customizable)
Multiple file attachment for ticket
Unlimited Support Agent user roll for ticket reply
Supervisor user roll for Ticket & Agent Management
Assign tickets to agents
Agent based ticket statistics
100% Responsive Design works with any theme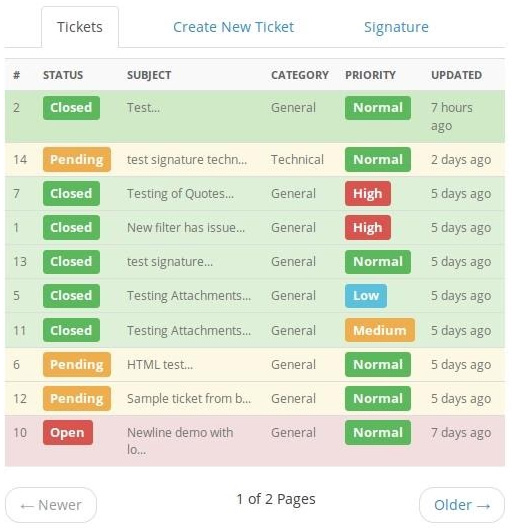 Bonus #5. Video Studio Helper
$97 Value
With this video course, you will learn how to set up a mini-studio in your home or office and start churning out pro-quality videos, podcasts & music to use for your Alexa Briefings. After the lessons you will understand the key elements of creating a home recording studio.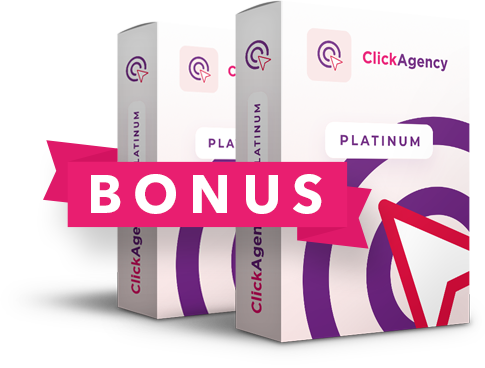 Also, it will teach you how to:
Get an overview of lighting techniques that the professionals use, and how to replicate it at a lower cost
Select, research and get the best audio recording & production tools so you can sound your best
Get insights into affordable, effective lighting solutions that are perfect for smaller spaces
Select, research and get the optimal lighting to light up your subjects & creating more engaging videos
Understand more advanced studio production techniques like green screen, music recording and much more
Upgrade Now

Before It's Too Late!
Because we need to be fair to the early adopters of ClickAgency Platinum and support our bandwidth we can't allow everyone to get access at this price.
That's why we're limiting who gets in by either raising the price or adding a monthly fee to use this powerful software soon. The good news is, for a very limited time you can upgrade to ClickAgency Platinum edition for the lowest possible price and secure access with no monthly fees or hidden costs.
Upgrade Now

Before It's Too Late!
Plus, if for any reason you get double the results or simply don't want to use ClickAgency Platinum anymore in the next 14 days, just let our rapid response support team know and we'll issue you a prompt refund.
The support desk is standing by to issue you a refund if you decide to exercise your risk-free 14-day money-back guarantee.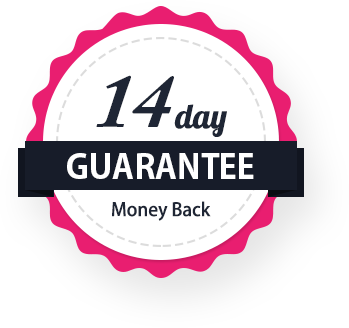 Upgrade Now to
Double Your Profits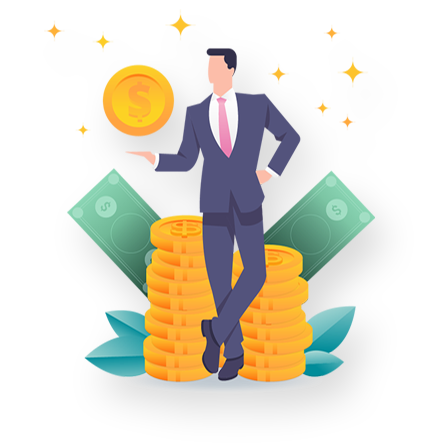 Again, you're getting the same amazing technology and training regular ClickAgency customers got, plus the essential upgrades needed to shave weeks of time and build an incredible brand that gets traffic faster.
Go ahead now, and secure your order before the price increases. Press the "Buy Now" button right now to lock in your Professional upgrade while it's still available.
Activate Your Platinum Membership Now
Before the Next Price Bump:
Just $197.00 Today
Your low-cost investment is protected
by a 14-day money back guarantee
FAQ
Q

Are these features, training, and extra licenses really essential to my ClickAgency campaigns?

You don't have to have these features to still have success. However, if you plan on running a serious business and value extra time and want to save significant money in the long run, then these features and training are really going to help. If you think about it all you need is one sale be it a small job, a consultation, a video you sell, etc. to make up the cost of this.
Q

Do I Have to Buy the Front-End Version First?

Yes, if you did not buy the front-end version and somehow made it to this page accidentally and place an order, your account will not be created. If you have not bought the front-end version please do so now, then come back here to upgrade.
Q

I' ll be able to think about it then come back to this page later when I' m ready... right?

Sorry, but ClickAgency Platinum is really just a one-time-opportunity and the price will actually increase in a few hours. Plus, we will have to take down the page completely soon as to make sure the customers who bought get amazing results and give us great testimonials to add to our proof.