Previous Launch Facts You Should Know:

Over 40 POTD Awards

Over $2,500,000 Paid
In Commissions
JVZoo Top 5 Affiliates - Multiple
High-Performance Leader Awards

Top 6-10 Affiliates Close in 5 Figures

Top 25 Affiliates Always Close
in 4 Figures

Conversions as high as 31%
on Front End

Over a Million Dollars In Affiliate Sales Done For Partners

Always Close 200+ Sales for Close JV Partners

Consistently in Top 5 on Leaderboards
Join Our JV Notification List For
Contest And Launch Updates
Get Updates
Build Complete, Congruent Lead Generation Campaigns for Yourself or Local Clients in 180 Seconds
by Talking to a "Smart" Bot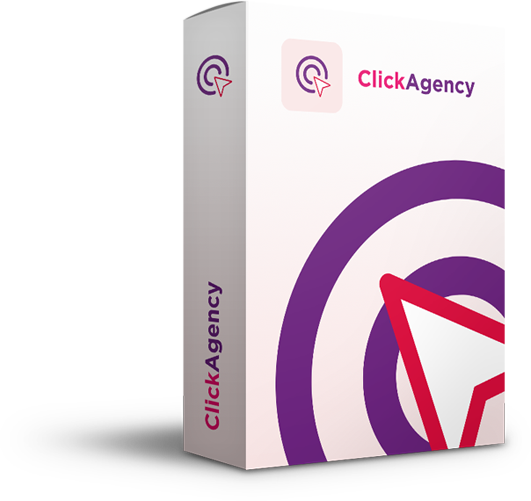 ClickAgency is a groundbreaking solution that creates high- converting, fully congruent marketing campaigns that generate targeted leads and sales for yourself and clients.
By filling out a simple form or talking to our A.I. powered bot, you can generate gorgeous lead pages with targeted copy and matching Facebook ads and Google ads which are auto-submitted to your ads manager to start driving the traffic.
But Before We Dive Into the App,
Let Us Introduce Ourselves…
Hey, it's Ben Murray and Brad Stephens and we've partnered for the first time to bring you a super exciting and innovative product. If you don't know us, we've been online marketers and software developers for over 12 years now, having done multiple six-figure product launches on top of many more marketing achievements.
In the past few years, we've had over 40+ Best Seller software products with 10,000s users actively using and benefiting from our apps. Our products always deliver real-life results, they convert for our partners, and our support team is 24/7 available to help our users achieve more.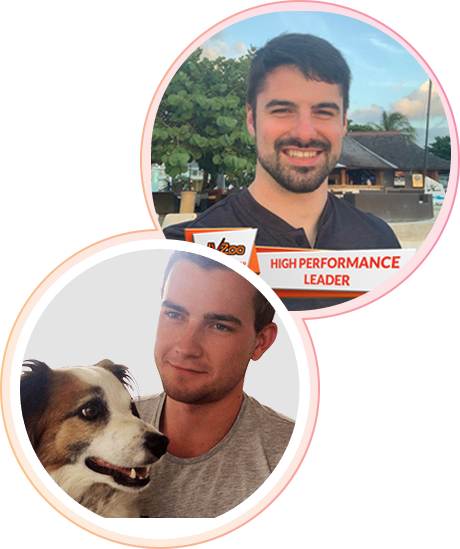 So, Why Are People
Super Excited

for

ClickAgency?

To make money, even newbies know you need great copy, targeted traffic, a landing page, email capture technology, and more for something real to happen. The angle for this launch is that ClickAgency will do all that for you in just 3 minutes or less with absolutely NO expertise required using brand new "smart" technology. Go beyond just selling another video creator or page builder and help them set up a full lead generation campaign that gets results.
Not only can you build congruent marketing campaigns with fast-loading video lead pages and matching ads for yourself, but make and sell them to clients for any profit you want using tons of local templates! Now you can run your own lead generation agency leveraging our "smart" software in... just a click!
CLickAgency Works

in 4 Steps:
Build Your Gorgeous, Fast-Loading Webpage Via a Simple Form
To begin creating a high-converting video lead page, pick what niche you would like and just fill out a simple form. Let ClickAgency know what your product or service is generally about, any images you want to be shown, and even videos you want to showcase. Our app will organize it into a beautiful landing page with targeting copy that loads ultra-fast, ready to capture leads.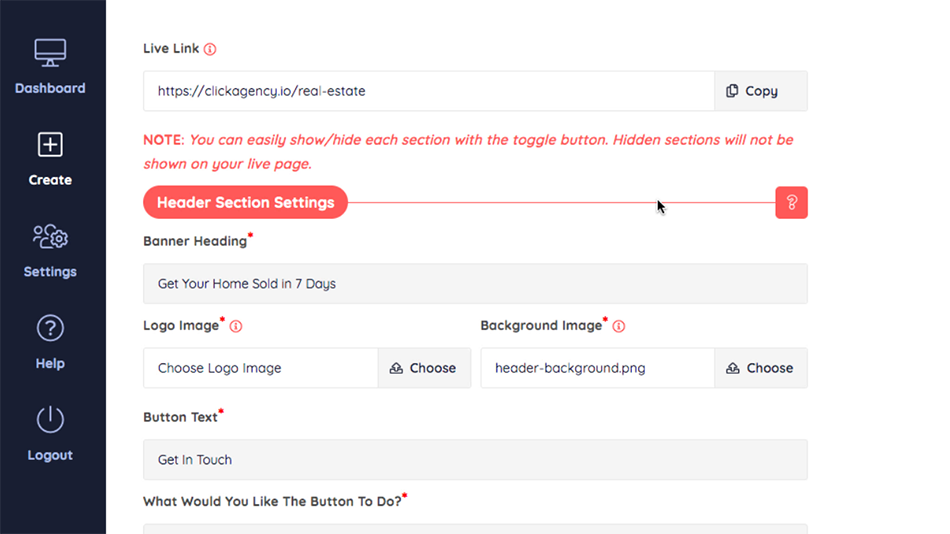 Or, Talk to Our Smart A.I. Bot to Create Your Campaign
Or, you can simply chat with our smart A.I.-powered bot about what type of campaign you want to create. Our smart solution will learn about the product you're trying to promote and create the campaign for you!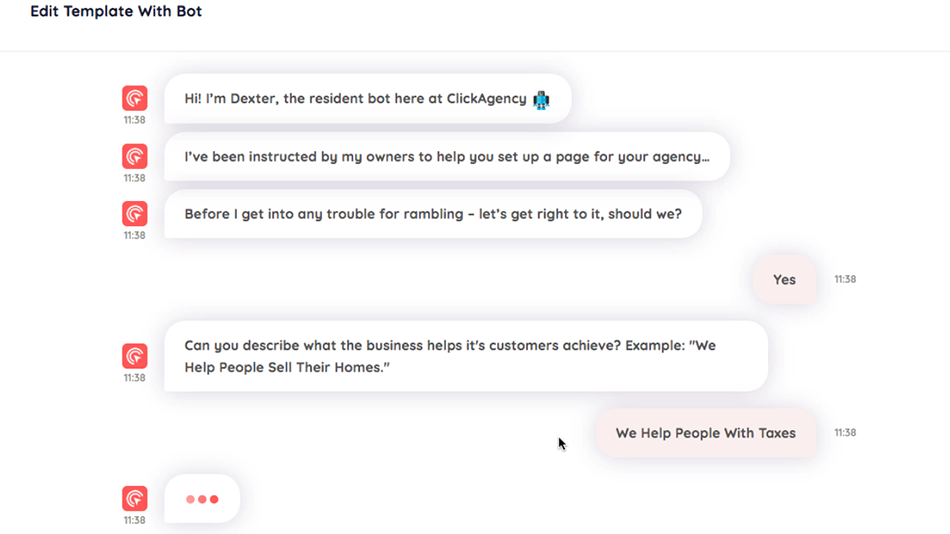 Preview Your Lead Page and Already Finished Ads
Then, after ClickAgency has created your landing page, preview it to see how you like and make any changes if necessary. Remember, ClickAgency will also create matching, congruent ads for you to send to Facebook or Google to get the traffic as well.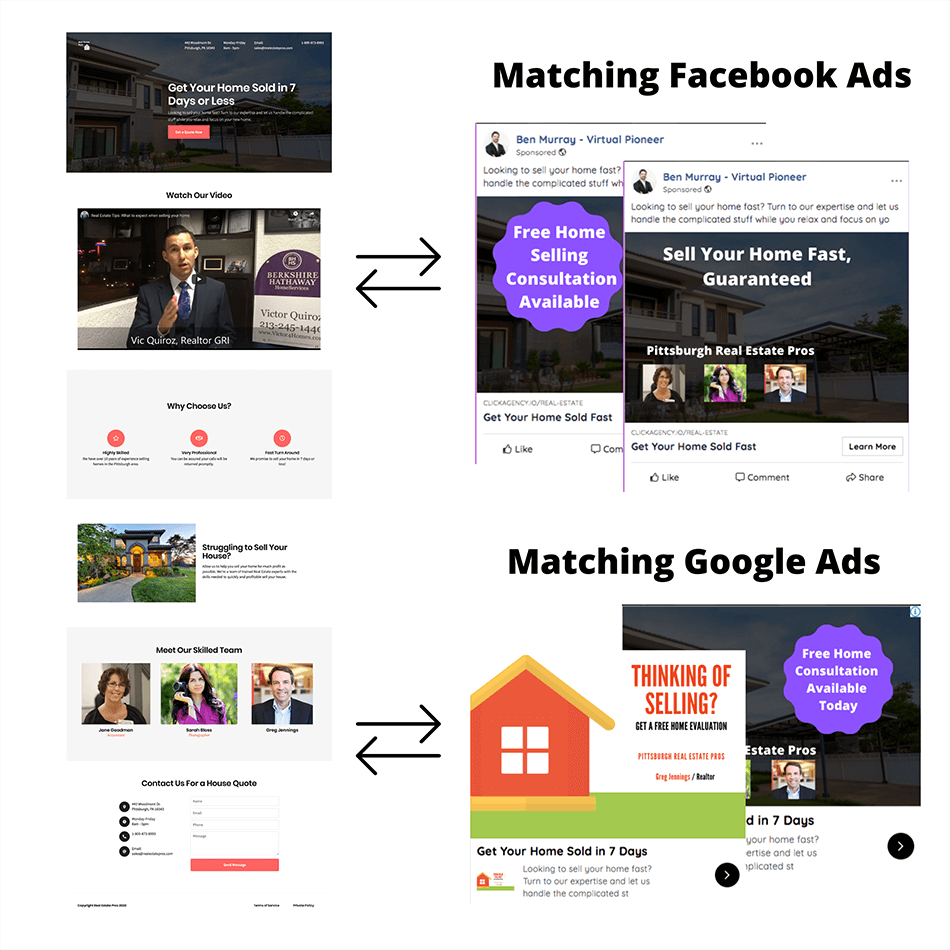 Log Into Your Ads Manager and Start Your Campaign
Then, when you're ready to start getting leads and making money, just log into your ads manager of choice and kick off your campaign. The ads are generated to match the offer and copy of your page so there is no fear of being disapproved or the offer not converting well.
Now everyone can start generating email leads, phone calls, signups, and profit for themselves or any local business.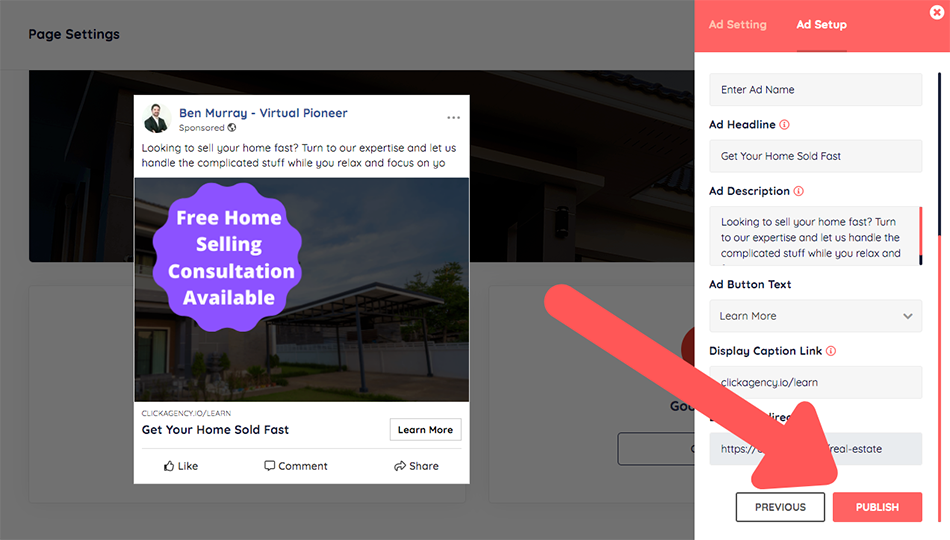 Pick From Tons of Gorgeous Campaign Templates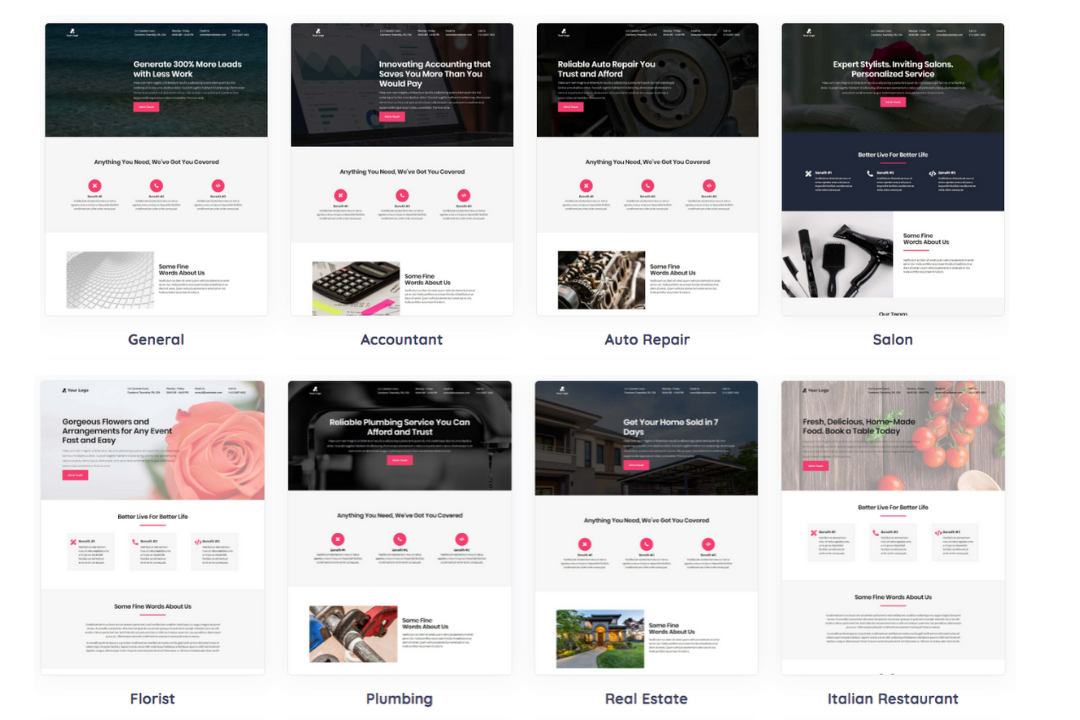 Let the Bot Create Copy, PPC Ads, and Drive Leads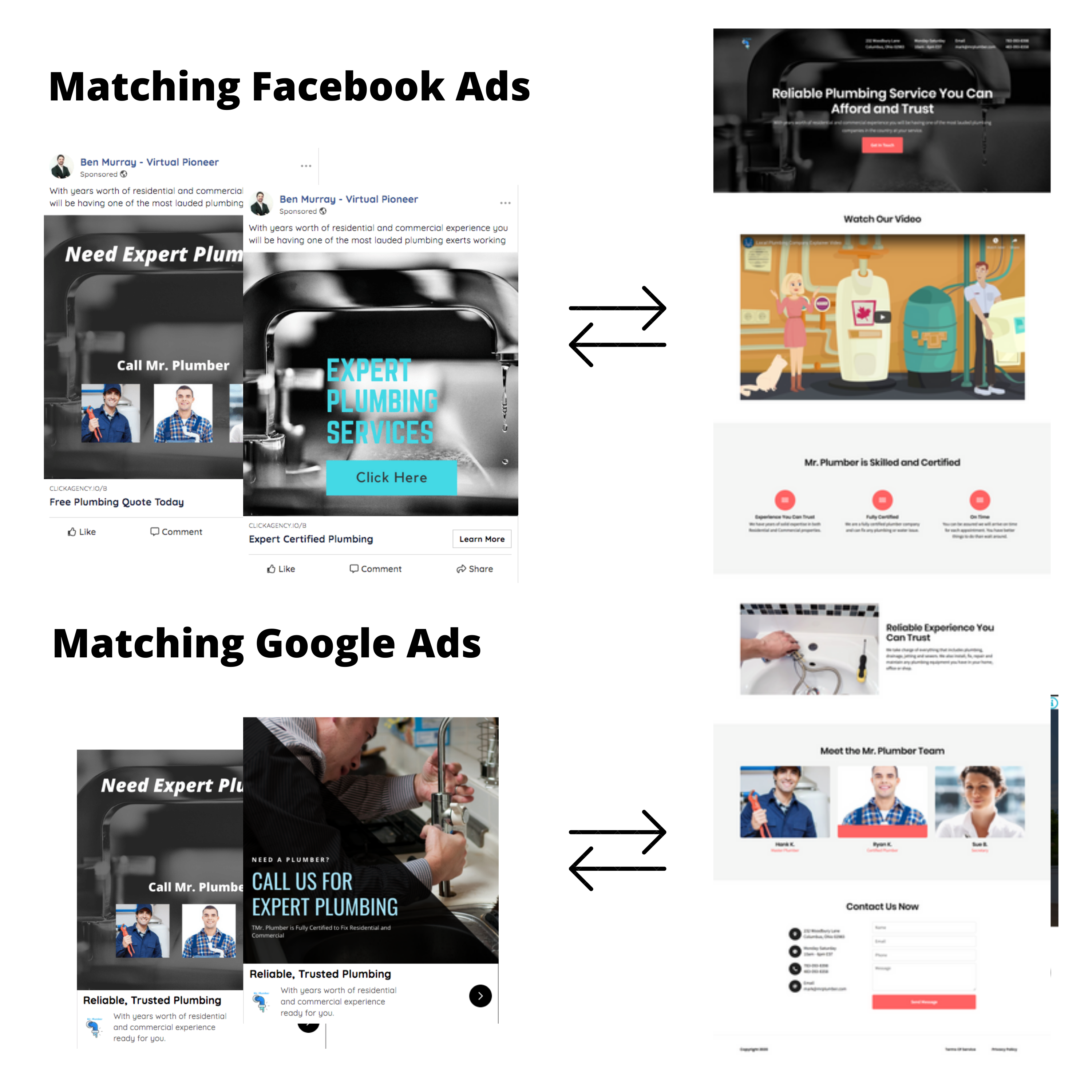 Just a Few Features Include…
Build Gorgeous Video Lead Pages Fast
Create video lead pages in any niche you want that not only looks great to clients, but is designed to convert. All pages created are 100% Facebook and Google TOS compliant and optimized for PPC campaigns.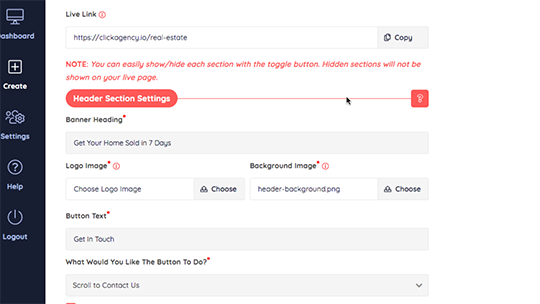 "Famous" 3-Minute Page and Campaign Builder
Build beautiful looking landing pages with matching ad copy in just minutes by filling out a few lines of text.
These pages not only look gorgeous but are purposely designed to convert at a high level.
A.I. Bot Page and
Campaign Builder
Simply talk to our "smart" bot and let him create a high-converting landing page, ads, copy, and more for you… all just by having an easy 3-minute conversation.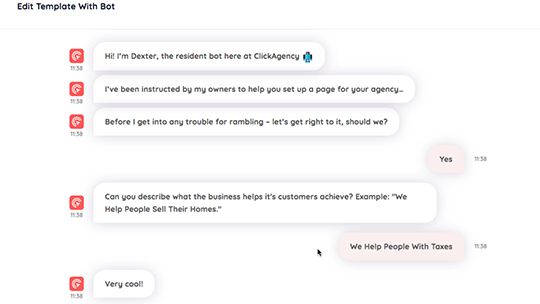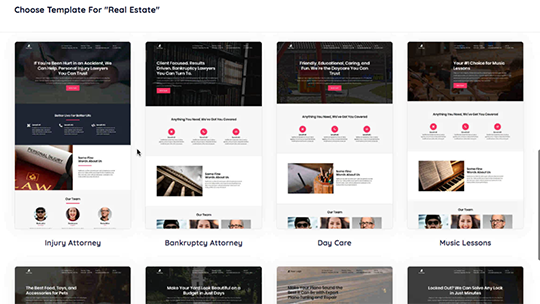 Gorgeous Local and "General" Page Templates
Build great landing pages from our built-in library of templates which include general and local-business niches.
Auto Create and Submit
Google Ads
Create corresponding and congruent Google ads that relate to your landing page copy automatically and let ClickAgency auto-submit them to Google ads manager.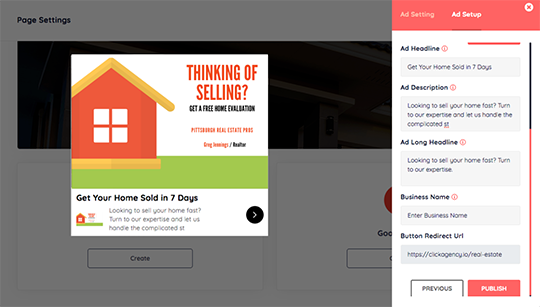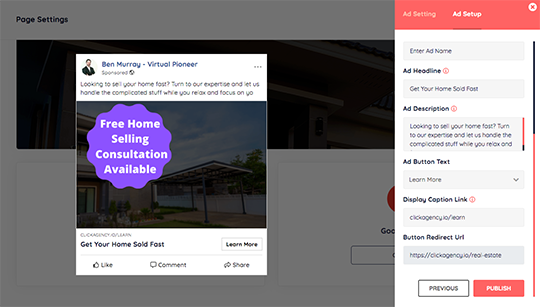 Auto-Create Facebook Ads
Auto-magically generate Facebook Ads matching your landing page copy and auto-submit them to Ads Manager. No more Facebook ads ban for incongruent marketing.
Built-in Video Marketing Technology
Embed fast-loading videos into each page you create to make your page convert even higher.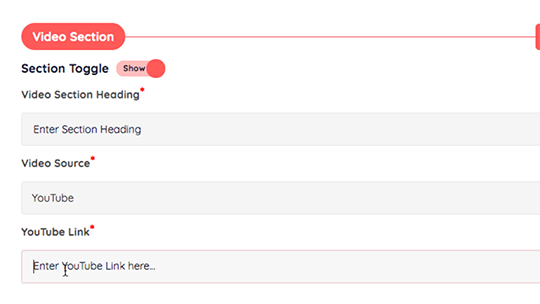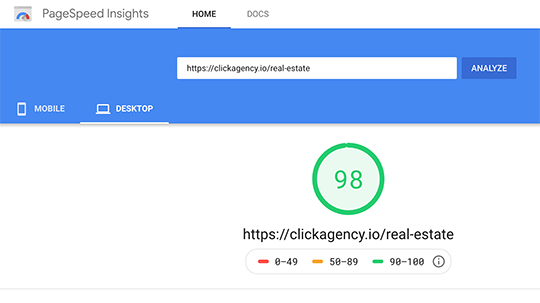 Lighting Fast Page Load Speed
Host your lead pages on the ClickAgency server and never worry about downloading or installing anything. Our pages load in under 3 seconds to convert as much traffic as possible.
Commercial Rights Included
Build multiple lead campaigns for clients in just minutes and charge per lead sent, per campaign, and more.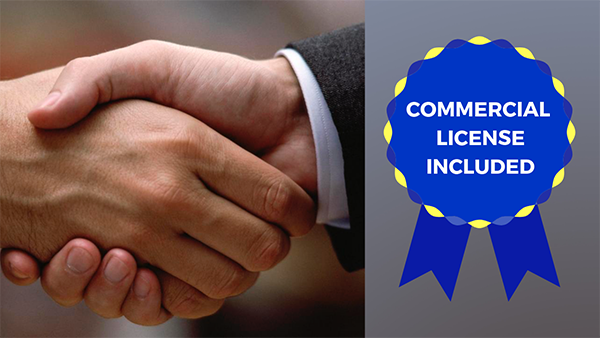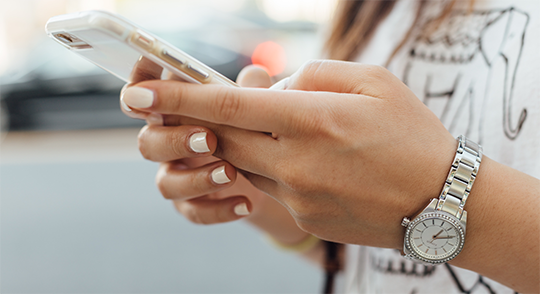 Fully Mobile Optimized and 100% Cloudbased
ClickAgency pages pass the latest Google Mobile update and work great on any device.
Plus, everything is hosted in the cloud including videos, pages, campaigns and more… nothing to download or install.
Translate into Multiple Languages
Create lead pages and ads in 100+ different languages. Only 25% of business searches are done in English so this is a huge market you can capitalize off of no one is tapping into!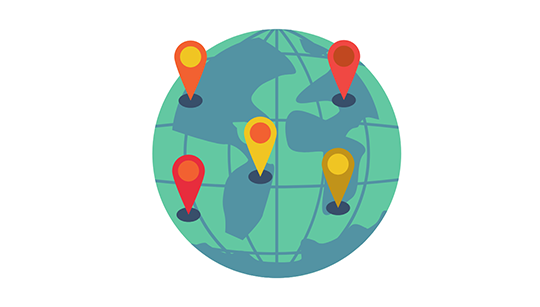 And far more features like...

Established and
Tested Product

100% Whitehat
Cloud App

Thousands of Images and Graphics to Pick From

Major Autoresponder Integration Included
ClickAgency Isn't Just for Agency Lists...

For Video Marketers… Build ultra-fast landing pages with built-in video technology ready to convert traffic and get your client leads. Embed video with ease to engage traffic with ClickAgency DFY ads.

For Affiliate Marketers… Use one of the general templates and turn it into a high converting sales page or "bridge" page for an affiliate product. Now you have DFY traffic, targeted copy, and bridge page to promote and build your list.

For Local/Agency Marketers… ClickAgency is the only app-to-date that creates high- converting local lead pages from tons of different "brick-and-mortar" templates complete with matching local ads to drive traffic.
For Newbie / MMO… Now you can get a full website up that captures leads AND drive high converting PPC traffic to it just by talking a smart A.I. bot. Never before you can accomplish so much without having to waste time.
Plus, We Have a Battle-Tested Funnel, Designed to Convert:
FE: ClickAgency Advanced Commercial $37.00 / ClickAgency Lite Commercial $27.00
Create full marketing campaigns with landing pages in different niches, copy, ads, and auto- submit to Facebook ads manager or Google ads manager. Includes all the features listed above.
OTO1: ClickAgency Platinum $49.00
This upgraded, more advanced edition of ClickAgency includes the ability to create more pages per month and run more campaigns, access to 3 million images to use in your landing pages, ability to create Instagram Ads, and 30+ more templates in our most profitable niches. Users will also get amazing traffic features including the ability to add any scripts ie: retargeting codes, ability to customize how their headline and social image looks when shared on social media, and ClickAgency MockChat app that allows users to create 'mock chat' Facebook and iMessage video conversations to drive more targeted leads to their pages.
DS1: ClickAgency Platinum-Lite $29.00
A lighter version of ClickAgency Platinum with less features for less cost.
OTO2: ClickAgency Enterprise - $69.00
The Enterprise version includes the ability to create unlimited pages and run unlimited campaigns. Users can also add their clients to the app, allowing clients to create the pages how they like and run their own campaigns from their ads manager platforms. Enterprise users will also get the Outsourcers License and VA login for team members "ClickAgency Leads Suite" which includes everything they need to start landing clients like DFY graphics material, DFY email swipes and teleswipes, DFY legal contract, DFY Facebook ads, and more.
DS1: ClickAgency Enterprise-Lite - $39.00
A lighter version of ClickAgency Enterprise with less features for a lower price.
OTO3: - ClickAgency Whitelabel Agency 100 and 300 Licenses $99.00 / $139.00
In a rare opportunity, users can resell ClickAgency 1.0 services with agency accounts with their own logo and domain. This allows them to start their own profitable, fully-branded software business. They get full updates and bug fixes including access to use our support.
OTO4: - MsgLock Agency - $29.00
Finally, customers can get an app that helps them generate leads from Facebook, build a Facebook messenger list, and capture email leads. This is a great lead generation software that fits perfectly into the funnel.
$10,000+ Launch Contest

and Prize Money

As if this isn't already a complete no-brainer, especially at this price, we're also throwing in over
$10,000 in affiliate prizes:
Opening Contest: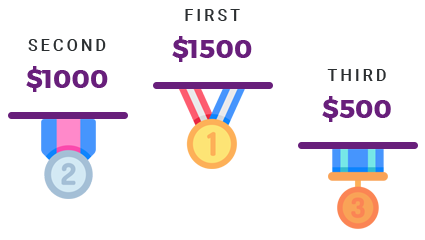 Mid Contest:
Closing Contest: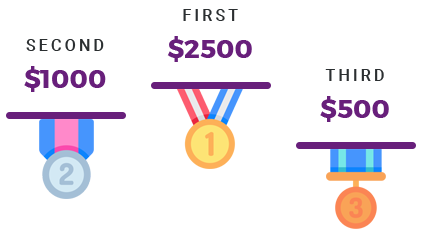 And more daily contests!
Why Promote ClickAgency?
Case-studies and proof included on sales page. of the month with little competition.
Launching on 8th April 2020 @ 10am EST. Perfect time of the month with little competition.
Earn up to a staggering $323 per sales!
Over $10,000 In JV Prizes
$3,000 Day #1 Speed contest
We reciprocate hard. Top 5 JVZoo Affiliates
Our products & funnel convert. Guaranteed 5 figure promo if you do a minimum 3 day campaign
8 Figure copywriter onboard
Our VSL, Copy and the entire funnel converts with double-digit EPCs.
Perfect for Video Marketers, Affiliate Marketing, Local Marketing, Facebook Ads, eCom, Traffic, and More
Established and well-supported product
Do We

Reciprocate?
Both of us work closely with our top JV partners and will be pushing extra hard in 2020 for them.
You can be assured that we've got your back and can do over 200+ sales for our partners on fitting products.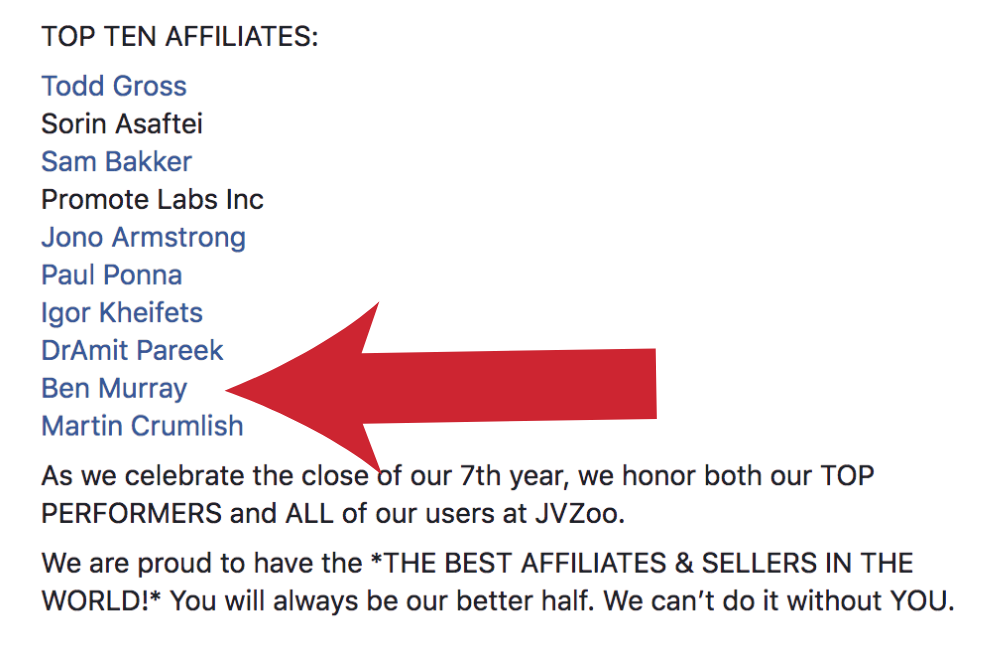 Reach Out for Review Access or Any Questions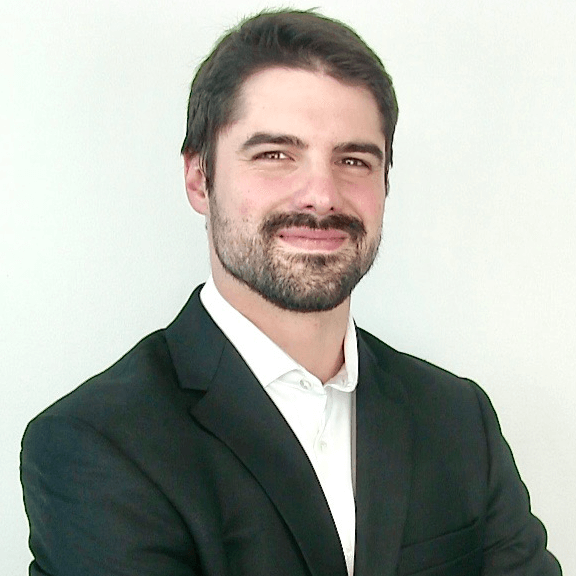 Ben Murray
Skype: passiveprofits7
Brad Stephens
Skype: bradstephens3